Local health departments are advising residents to check the UPC numbers on their Jif® brand peanut butter. Several types and sizes of the brand could be contaminated with salmonella.
J.M. Smucker Co. issued a recall late last week after discovering the potential of salmonella contamination among several of its products.
Salmonella can cause serious and sometimes fatal infections in those with weakened immune systems, young children and frail people. Healthy individuals may experience diarrhea, a fever higher than 102ºF, vomiting, stomach cramps and signs of dehydration. Symptoms can begin as soon at six hours after swallowing the bacteria or up to six days later. Recovery is expected within 4 to 7 days, according to the CDC.
"Four of five (80%) sick people reported eating different types of Jif brand peanut butter before getting sick," according to the CDC's website.
Consumers should follow these steps to see if the peanut butter in their homes has been recalled:
Check if you have Jif peanut butter in your home.
Locate the lot code on the back of the jar, under the Best If Used By Date (the lot code may be next to the Best If Used By Date for cups or squeeze pouches).
In the lot code, if the first four digits are between 1274 and 2140, and if the next three numbers after that are '425', this product has been recalled and you should not consume this product.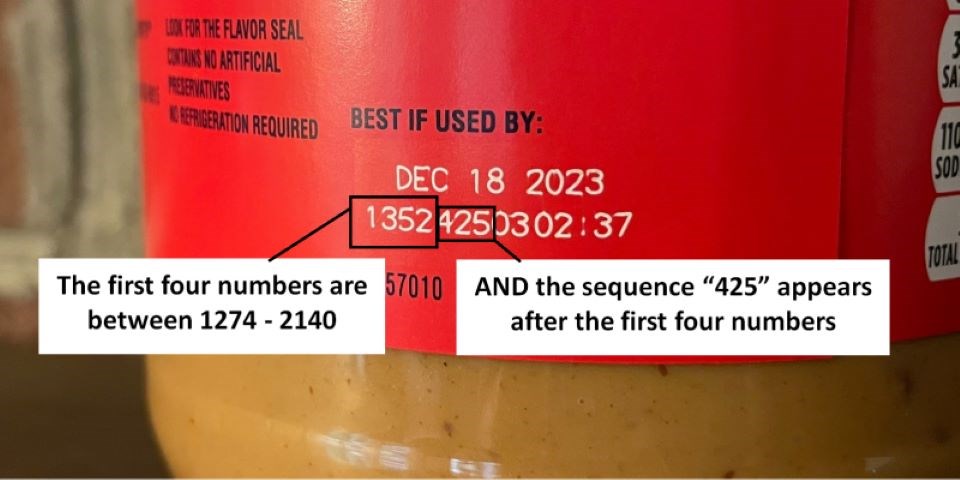 A full list of recalled products is below:
| | |
| --- | --- |
| JIF 16 OUNCE CREAMY PEANUT BUTTER | 5150025516 |
| JIF 16 OUNCE CRUNCHY PEANUT BUTTER | 5150025537 |
| JIF 96 OUNCE CREAMY PEANUT BUTTER TWIN PACK | 5150024705 |
| JIF 96 OUNCE CRUNCHY PEANUT BUTTER TWIN PACK | 5150024706 |
| JIF 40 OUNCE NATURAL CRUNCHY PEANUT BUTTER | 5150007565 |
| JIF 12 OUNCE CRUNCHY PEANUT BUTTER INTERNATIONAL | 5150008026 |
| JIF 3/4 OUNCE PEANUT BUTTER PLASTIC CASE | 5150008051 |
| JIF .64 OUNCE NATURAL PEANUT BUTTER PLASTIC CASE | 5150008058 |
| JIF 96 COUNT NATURAL PEANUT BUTTER TO GO CASE | 5150021889 |
| JIF 36 COUNT CREAMY JIF PEANUT TO GO CASE | 5150024114 |
| JIF 8 COUNT CRUNCHY PEANUT BUTTER TO GO | 5150024130 |
| JIF 8 COUNT CREAMY PBTR TO GO | 5150024136 |
| JIF 4.5 OUNCE CREAMY PEANUT BUTTER TO GO | 5150024137 |
| JIF 54 OUNCE CREAMY PEANUT BUTTER TO GO 36 PACK | 5150024143 |
| JIF 28 OUNCE CRUNCHY PEANUT BUTTER | 5150024163 |
| JIF 96 COUNT CREAMY PEANUT BUTTER TO GO | 5150024170 |
| JIF 54 OUNCE NATURAL CREAMY PEANUT BUTTER TO GO 36 PACK | 5150024174 |
| JIF 28 OUNCE CREAMY PEANUT BUTTER | 5150024177 |
| JIF 40 OUNCE NATURAL HONEY | 5150024182 |
| JIF 12 OUNCE CREAMY PEANUT BUTTER | 5150024191 |
| JIF 12 OUNCE NATURAL CREAMY PEANUT BUTTER TO GO | 5150024307 |
| JIF 40 OUNCE NATURAL CREAMY PEANUT BUTTER | 5150024321 |
| JIF 28 OUNCE NATURAL CREAMY PEANUT BUTTER | 5150024322 |
| JIF 4 POUND CAN CREAMY PEANUT BUTTER | 5150024331 |
| JIF 96 OUNCE NATURAL CREAMY TWINPACK | 5150024404 |
| JIF 15.5 OUNCE NO ADDED SUGAR PEANUT BUTTER | 5150024540 |
| JIF 13 OUNCE SQUEEZABLE POUCH | 5150024545 |
| JIF 33.5 OUNCE NO ADDED SUGAR PEANUT BUTTER | 5150024548 |
| JIF 13 OUNCE NATURAL SQUEEZE POUCH | 5150024572 |
| JIF 80 OUNCE CREAMY PEANUT BUTTER TWIN PACK | 5150024769 |
| JIF 80 OUNCE CRUNCHY PEANUT BUTTER TWIN PACK | 5150024776 |
| JIF 40 OUNCE REDUCED FAT CREAMY PEANUT BUTTER | 5150025499 |
| JIF 16 OZ REDUCED FAT CREAMY PEANUT BUTTER | 5150025518 |
| JIF 16 OUNCE CREAMY OMEGA 3 PEANUT BUTTER | 5150025530 |
| JIF 80 OUNCE NATURAL CREAMY PEANUT BUTTER TWIN PACK | 5150025542 |
| JIF 16 OUNCE NATURAL CREAMY PEANUT BUTTER | 5150025565 |
| JIF 16 OUNCE NATURAL CRUNCHY PEANUT BUTTER | 5150025574 |
| JIF 16 OUNCE NATURAL CREAMY PEANUT BUTTER HONEY | 5150025578 |
| JIF 40 OUNCE CREAMY PEANUT BUTTER | 5150072001 |
| JIF 40 OUNCE CRUNCHY PEANUT BUTTER | 5150072002 |
| JIF 46.5 OUNCE NO ADDED SUGAR PEANUT BUTTER | 5150041418 |
| JIF 1.1 OUNCE PORTION CONTROL PEANUT BUTTER 120 COUNT | 5150092100 |
| JIF 48 OUNCE CREAMY PEANUT BUTTER | 5150024094 |
| JIF 48 OUNCE CRUNCHY PEANUT BUTTER | 5150024095 |
| JIF 1.5 oz CREAMY PEANUT BUTTER TO GO | 5150024141 |
| JIF 48 OUNCE NATURAL CREAMY | 5150024402 |
| JIF 40 OUNCE CREAMY PEANUT BUTTER | 5150024090 |
| JIF 40 OUNCE CRUNCHY PEANUT BUTTER | 5150024091 |
| JIF 40 OUNCE NATURAL CREAMY PEANUT BUTTER | 5150025524 |