NEWS RELEASE
BOULDER COUNTY
*************************
On National Agriculture Day, Boulder County announced recipients of 2023 Sustainable Food and Agriculture Funds, which includes:
Boulder County Farmers Market
Boulder Valley Ranch, Community Fruit Rescue
Harvest of All First Nations
High Plains Biochar and Yellow Barn Farm
Nederland Victory Gardens
Rocky Mountain Pumpkin Ranch
Speedwell Farm and Gardens
St. Vrain Valley School District
Sustainable Alliances, Inc.
Sustainable Living Designs
Boulder County invited farmers, agricultural producers, the private sector, and non-profit organizations to apply for funding to accelerate and launch environmental sustainability projects that benefit food and agriculture in Boulder County.
This funding opportunity was provided to impact five broad areas:
On-farm regenerative agriculture and soil health practices
Farmer/producer education, conferences, and workshops that focus on sustainable and regenerative agriculture demonstrations
On-farm and farmer's market infrastructure
Sustainable local food and crop production
Programmatic and resource support for frontline farm workers and organizations
Fund recipients will develop educational programs, implement regenerative practices, and increase access to locally grown food. These projects will increase soil nutrient levels and help crops and our community thrive in the face of multiple risks, uncertainty, and threats posed by climate change.
"Supporting local food and agriculture is not just about encouraging the production of fresh and healthy food, it's about cultivating a system that is rooted in resilience, sustainability, and social justice," said commissioner Marta Loachamin. "This year's Sustainable Food and Agriculture Fund projects not only support our local farmers and economy, but they also build a foundation for food systems that help our community adapt and thrive in the face of our changing climate. By improving soil health and increasing access to local food, these projects will help reduce supply chain emissions and draw down carbon while responding to climate-related challenges, including rising temperatures, drought, and increased wildfire risk."
"We are continuing to see huge demand for this program and are thrilled to work with the next cycle of impressive and innovative grantees," said climate and circularity specialist Dede Croissant. "The diversity of projects such as grain processing and storage, edible landscapes, an Indigenous Corn Festival, on-farm fertility systems, and vertical garden education, highlights Boulder County's dynamic and robust food and agricultural system."
Selected large-fund projects:
Boulder County's Farmers Market: Strengthening Regional Food Purchasing | $61,988 — Funding will support the launch of a year-round online marketplace that will connect institutional buyers to locally produced food. This effort will increase access to the regional food hub serving local food producers and community members in Boulder County. Tapping into the economies of scale that come with institutional-level procurement will help mid-size growers find stable markets.
"In response to the public health emergency and closure of our on-street markets in 2020, Boulder County Farmers Markets launched a year-round online marketplace connecting our community with locally produced food. [This] Funding will help us explore how our online marketplace — which acts as a Boulder County regional food hub — can better collaborate with institutional partners and serve low-income community members with high-quality, locally produced food."
Boulder Valley Ranch: Compost Spreading and Irrigation Maintenance | $41,350 —Boulder Valley Ranch will use funds to purchase a compost spreader and a ditch cleaner. They will utilize this equipment across 3,000 acres of public and private land. This equipment will allow the ranch to better cycle nutrients and increase irrigation efficiency, which will improve productivity and soil health.
"We are extremely grateful to be a recipient of the Boulder County Sustainable Food & Agriculture Fund. This grant will help us with vital equipment to maintain irrigation ditches and apply compost to our irrigated fields."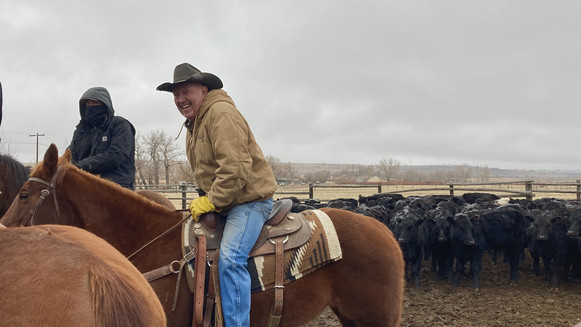 Harvest of All First Nations: Corn Festival | $20,000 — The second annual Harvest of All First Nations Corn Festival will foster cultural and ecological regeneration by reconnecting BIPOC communities with their traditional foodways. The event will bring together community and experts to share locally-grown heritage foods and Indigenous knowledge through workshops and hands-on activities.
"We want to express deep gratitude to Boulder County and all of our supporters who believe that we can create spaces that embody liberation, rematriation, and celebration of Indigenous knowledge. We aspire to create a more inclusive and equitable future for all members of society grounded in care, respect for the land, people of diverse cultures, and Indigenous communities. Join us this September at our 2nd Annual Corn Festival!"
Rocky Mountain Pumpkin Ranch: Organic Grain Storage | $60,000 — This project addresses the limited supply of grain storage space in Boulder County by creating grain storage for organic corn, wheat, and grains grown on 2,000 acres of USDA certified organic land. To further support the production of organic produce in Boulder County, other organic farmers will be given access to the grain bins so that they can store their own harvests.
"Rocky Mountain Pumpkin Ranch is excited about bringing grain storage solutions to the Front Range.  The funding from this grant will help encourage more organic production; especially in the small grains market which is highly desirable in the consumer market space. This project will provide multi-faceted benefits to Front Range producers and the Boulder County community for many years to come."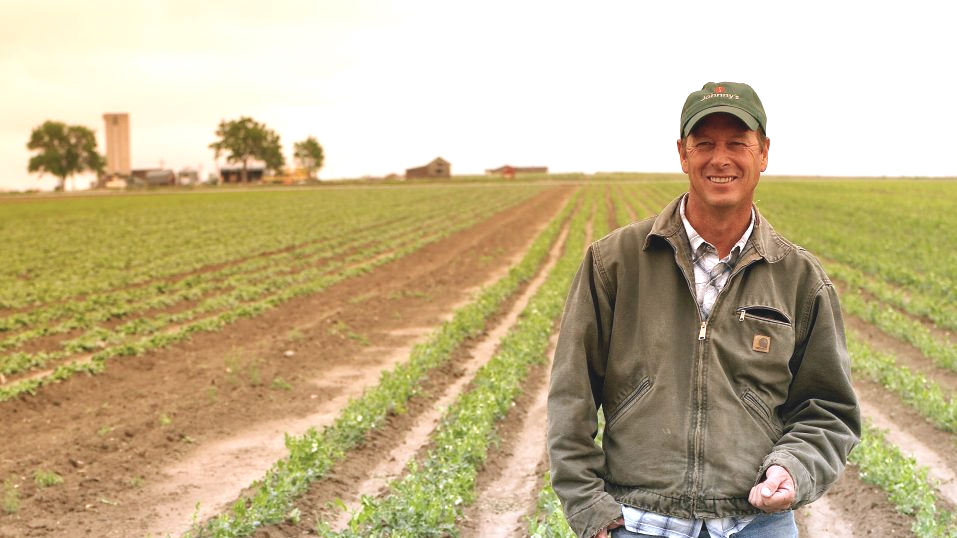 Speedwell Farm & Gardens: Building Resilience Through Perennial Cropping and On Farm Fertility Systems | $40,000 — Speedwell Farm & Gardens aims to build long-term community resilience through regenerative agriculture. Using perennial cropping and closed-loop fertility, Speedwell will transform farm by-products and waste streams into soil amendments that will improve soil quality. These circular fertility systems, alongside annual and perennial market gardens, improve soil health and access to local food.
"It is an honor to be chosen for the Boulder County Sustainable Food & Agriculture Fund. This funding allows Speedwell to create more regenerative and resilient systems on our farm while working toward deepening the understanding of sustainable agriculture in Colorado."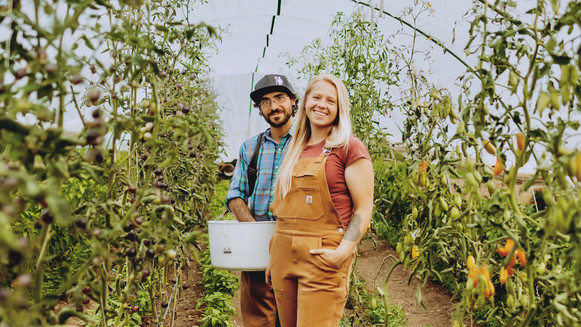 St. Vrain Valley School District: Project Sky Garden | $100,000 —The St. Vrain Valley School district will build a vertical garden education and entrepreneurship program at St. Vrain's Career Elevation and Technology Center. In addition to serving all 120 students in the center's agriscience pathway, the vertical garden will also support an afterschool student team.
"St. Vrain Valley School District is thrilled to be a large-fund recipient of the Sustainable Food & Agriculture Fund. We pride ourselves in aligning innovative practices and technology while ensuring our students are future-ready and graduate with a global mindset. This grant will help to purchase a cutting-edge FarmBox, allowing our students to explore vertical farming and associated technologies, all while supporting healthy eating, entrepreneurship, and sustainable agriculture practices in our community."
Selected small-fund projects:
Community Fruit Rescue: Harvest Infrastructure Expansion Project | $4,972
Community Fruit Rescue harvests and distributes surplus urban fruit growing in Boulder County. Funding will support the expansion of the organization's collection through the installation of a centralized Harvest Hub in a high-need location.
High Plains Biochar and Yellow Barn Farm: High Plains Biochar RocketChar 301 Life Cycle Analysis on Yellow Barn Farm | $5,000
High Plains Biochar will partner with Yellow Barn Farm to conduct a life cycle analysis that will provide detailed information on carbon farming and the benefits of replacing propane heating with heat generated by biochar production.
Nederland Victory Gardens: Victory Garden's Greenhouse | $5,000
Victory Gardens will build a net-zero energy greenhouse using recycled, carbon-neutral materials. This greenhouse will serve as an educational tool to demonstrate regenerative and organic local food production in high-altitude environments.
Sustainable Alliances, Inc.: Project Qanil | $4,860
Sustainable Alliances, Inc. will build a native seed bank that will be used to restore landscapes after wildfires. This funding will also support the launch of an on-site bilingual market, facilitate outreach to underserved communities, and the development of a Día de los Muertos Garden-in-a-Box, which will include native plant materials that are used in traditional ofrendas, offerings placed in a home altar during the Día de los Muertos celebration.
Sustainable Living Designs: Colorado Backyard Fruit | $4,750
Sustainable Living Designs uses permaculture principles to install edible landscapes that allows residents to convert their lawns into food forests. Sustainable Living Designs will use this funding to set up an edible plant nursery for perennial species adapted to Colorado's growing conditions. These plants will be planted in the backyards of homeowners throughout Boulder County.
About the Boulder County Sustainable Food and Agriculture Fund
The Sustainable Food & Agriculture Fund is supported by Sustainability Tax revenue. In November 2016, voters approved the Sustainability Tax ballot initiative to allocate a portion of sales and use tax revenue to fund sustainability infrastructure and programs.
For a description of all projects funded since 2020, click here.
*************************