One of the children who attend Centennial Elementary of Adams 12 Five Star Schools confessed to their teacher how hungry they were and couldn't possibly make it to lunch. The teacher brought the student to Monica Camargo Garcia, the Family Liason of the school. They soon discovered that the child was putting on a brave face at school.
His mother was recovering from a serious illness and the father had to take time off work to take care of his wife and kids. This caused a massive financial burden on the family and the children noticed this by having the size of their meals become smaller and smaller in portion over time.
The Five Star Education Foundation is the nonprofit partner to Adams 12 Five Star Schools, and in partnership with the Office of Whole Child Initiatives, developed Resource Closets in 37 schools across the district.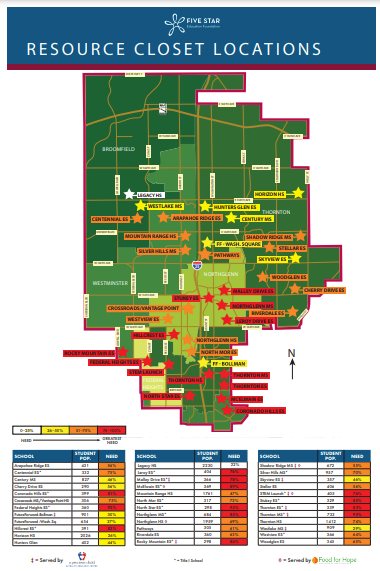 Since 2020, Resource Closets provide immediate emergency assistance to students and families in need. They provide fresh and non-perishable food, clothing, hygiene supplies, school supplies, and essential household items. The closets are located in schools with the greatest need, including all Title 1 schools, and are located in all five cities of the Adams 12 boundaries:
Broomfield,
Federal Heights,
Northglenn,
Thornton,
and Westminster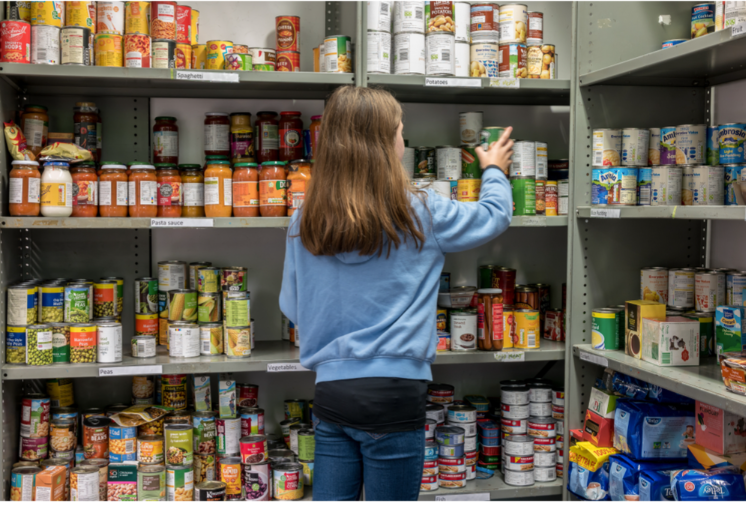 Centennial Elementary has 75% of its student population signed up for Free and Reduced Lunch (FRL), meaning that almost three-quarters of the school's families struggle to provide lunch for their children. Food insecurity is not a new problem for Monica, and as the Foundation Resource Closet Manager, she sprang into action.
"We emptied the bags and my wife and I both teared up when we saw enough food to cover our entire dining table, laundry detergent, shower supplies, and stacks of diapers for our baby. I also received a handwritten note from Monica asking me to come to the school sometime so she can help me navigate other resources."
When students are warm, safe, and fed, they are learning-ready and can thrive in school.
Schools are the heart of the community and are in the best position to respond immediately when a student and their family are in need. Resource Closets are a tool that fosters trust and security allowing students to be a part of a caring community.
This good work and support could not be possible without the support of our local community.
Broomfield Community Foundation and the City & County of Broomfield's Department of Human Services provided the Foundation with a generous amount of $15,000 to support the three Resource Closets in the city of Broomfield: Centennial Elementary (75% FRL), Westlake Middle School (29% FRL), and Legacy High School (22% FRL). Broomfield residents have been impacted by the pandemic and inflation and the need is rising so much that the Foundation opened its 37th Resource Closet at Legacy High School in the Fall of 2022.
The Five Star Education Foundation supports the Resource Closets in collaboration with A Precious Child, Food for Hope, Conscious Alliance, and other organizations to provide essential resources to Five Star families since 2020.
This initiative would not be possible without substantial investment from Adams County, the Safeway and Albertsons Foundation, Kaiser Permanente, Broomfield Community Foundation, the Broomfield Department of Human Services, the City of Thornton, the City of Northglenn, Centura, Colorado Blueprint for Hunger, the Credit Union of Colorado, and through ongoing community support from donors. This vital resource is only possible with our incredible Five Star community.
If you have a student in Adams 12 Five Star Schools and are in need of assistance, please reach out to your student's school.
To see a list of all Foundation Resource Closets, click here.
If you would like to learn more about this program and the many others the Foundation supports, or are in a position to help your neighbors by making a donation, please visit our website at www.5starfoundation.org.