In Brief:
Cool with storms, a return to normal summer weather in a few days.
Friday Update:
The weather situation today is very similar to yesterday (Thursday). Storms, for the most part, did not materialize as too much cool, stabilizing air invaded northern Colorado. We are going to get warmer today but moisture levels are a touch lower. Storms that do form this afternoon could drop locally heavy, flooding rains.
End Friday update.
The Forecast Discussion:
First, there is so much moisture in place (Figure 3) and with northwest flow aloft —excellent for creating repeated batches of thunderstorms day and night (Figure 4) — the National Weather Service has issued a Flash Flood Watch (Figure 1). Note, there is ALSO a Marginal Risk (1 on a scale of 1-5) for damaging thunderstorm winds and large hail for the Front Range and I-25 corridor.
Issued: 8:53 AM Jul. 28, 2022 – National Weather Service
...FLOOD WATCH IN EFFECT THROUGH THIS EVENING...
* WHAT...Flash flooding caused by excessive rainfall is possible.
* WHERE...Urban corridor north of the Palmer Divide and west of
I-25, and northwest Weld County.
* WHEN...Through 10 PM this evening (Thursday).
* IMPACTS...Excessive runoff may result in flooding of rivers,
creeks, streams, and other low-lying and flood-prone locations.
Flooding may occur in poor drainage and urban areas. Extensive
street flooding and flooding of creeks and rivers are possible.
* ADDITIONAL DETAILS...
- Up to 3 inches of rain has fallen in parts of Larimer and
Boulder Counties and additional heavy rainfall is expected.
_________________________________________________________________
We are very cool for this time of year Thursday and even Friday (Figure 2). This is also due to the proximity of the trough to our east and a northern component of the airflow (Figure 4). A serious ribbon of moisture continues over the southwestern and central United States (Figure 3 - grey/white shades).
This moisture will remain in place Friday as well (green shading Figure 5). After that, a high-pressure center — currently over California (Figure 4) — will return to Colorado and give us a break from storms (mostly) Saturday through Monday.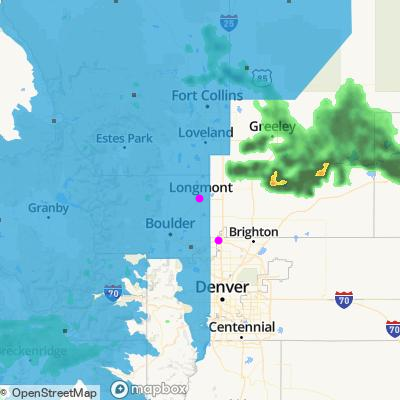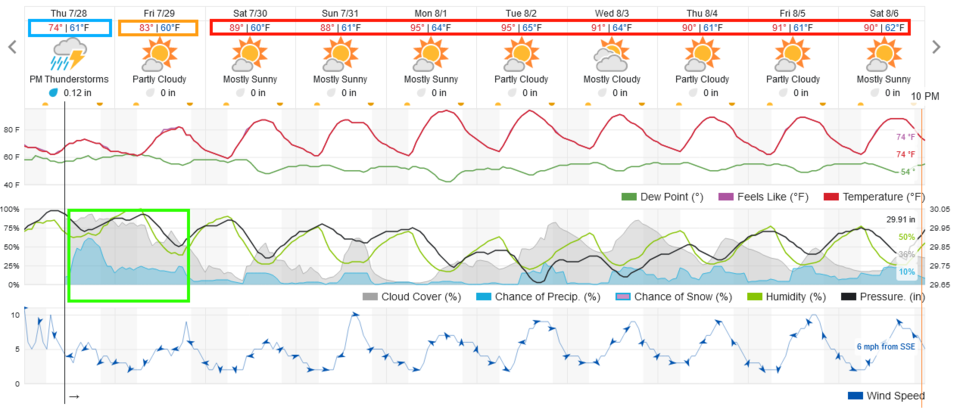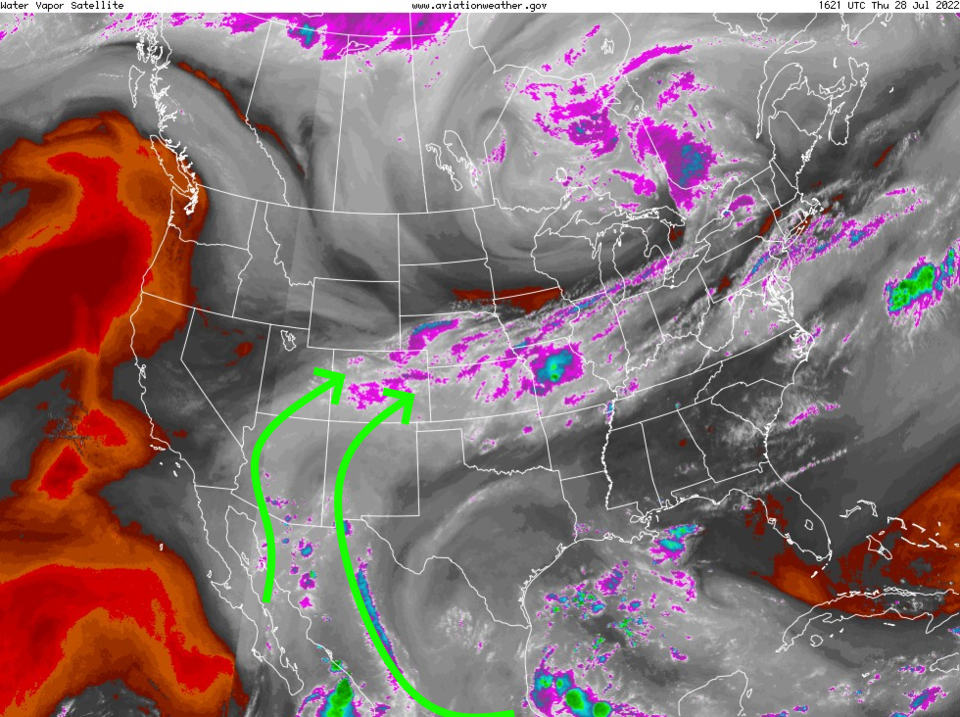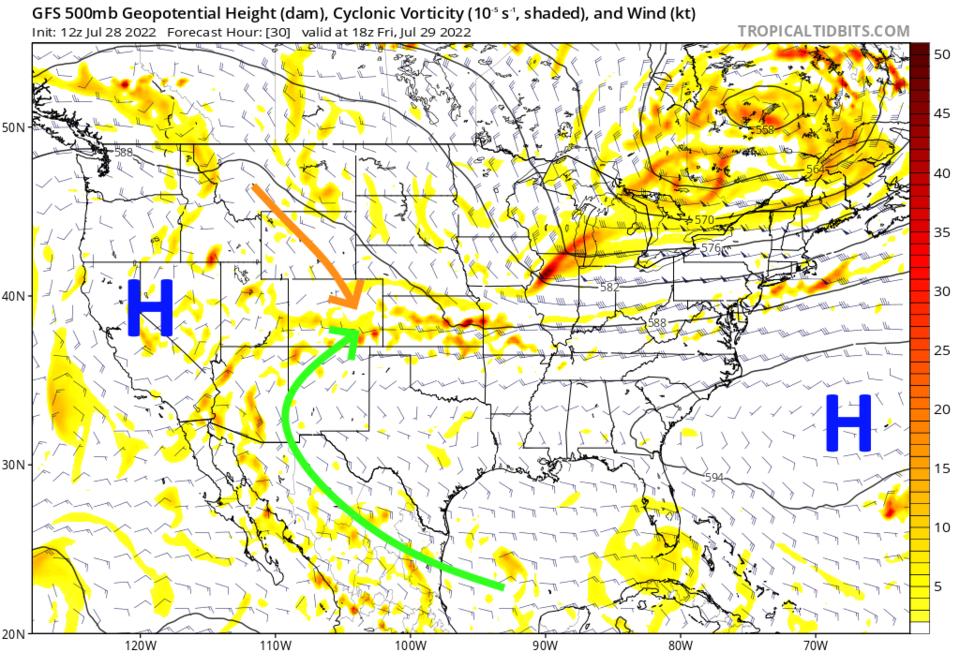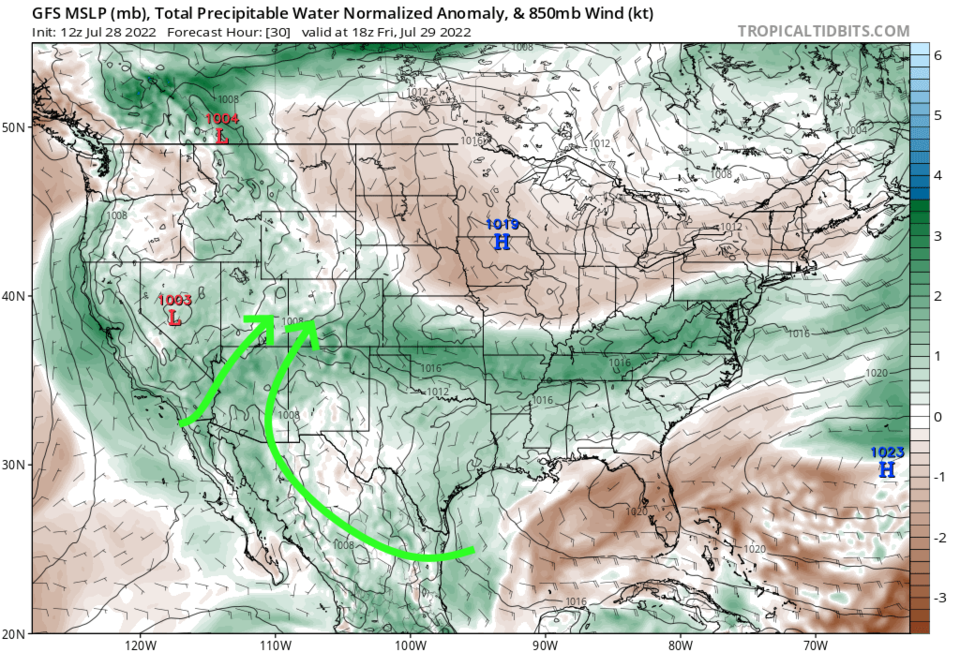 The Longer Range Forecast:
For the remainder of next week, temperatures stay really close to normal with a return to daily chances of afternoon storms (Figure 2). The 3 day precipitation expectation around Longmont to Broomfield is about 1/4th to 1/2 inch of rain. IF you get hit by a storm cell, you might see 1-2 inches in a short period of time.