In Brief:
A possible shot of snow and/or ice Wednesday morning and Thursday morning.
Tuesday update:
Instead of a big snow storm, we have another chance of a coating of snow or a coating of ice Wednesday morning and again Thursday morning. Be careful out there!
End Tuesday update.
Sunday update
Just a quick note today on the mid-week storm. Models are trending towards better agreement AND are taking the storm further north. Forecasted snow amounts for the I-25 folks are decreasing. More updates as things come into focus.
End Sunday update.
Forecast Discussion:
We start the week with near normal temperature as the mountains keep getting periods of snow (Figure 1). The region will experience strong winds Sunday afternoon. There is a Red Flag Warning for high fire danger for locations where snow has melted and the vegetation has dried out.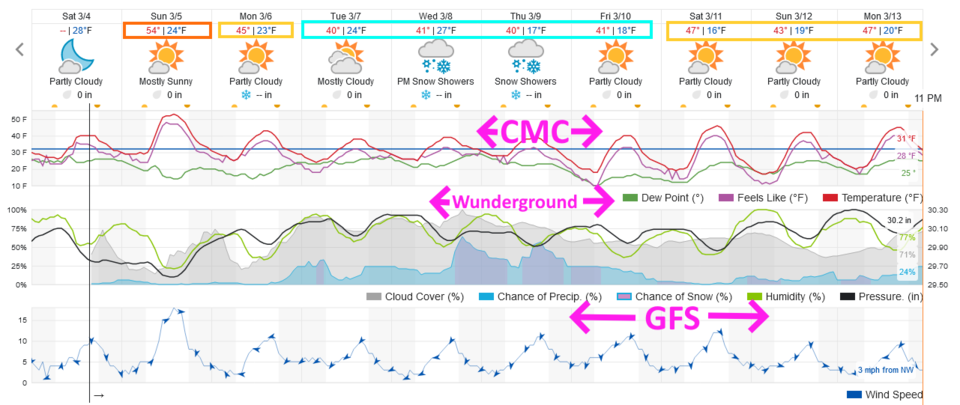 The Longer Range Forecast:
A very deep trough moves into the West mid-week (Figure 2). This won't bring in unusually cold temperatures, but energy is present for a prolonged period of snow. Possibly. The Weatherunderground (wunderground for short) model has very different timing from the GFS model. Figure 1 shows the main portion of the storm arriving Wednesday and Thursday. The GFS has the bulk of the storm hitting Friday and Friday night (Figure 3). I have them compared these timing differences with pink arrows in Figure 1.
The GFS HAS been consistent with giving the northeastern Plains including I-25 folks a foot or more of snow (Figure 4). The Canadian model only predicts 3-5 inches for this time period. I'll keep updating this article this week as the storm approaches!