​​In Brief:
Another round of snow then a very cold night.
Wednesday Update
The winter storm warning is ongoing midday Wednesday. There is also a Wind Chill Advisory for the Front Range. Another round of snow is expected this afternoon then light flurries deep into the night as temperatures plummet to negative single digits. Another 2-3 inches of snow is possible along I-25 north of Denver (1-2 inches in Broomfield).
The first round of the storm dropped just shy of 3 inches of snow in Longmont and about 3-5 inches in Boulder (Figure 2 update). Take it easy with the snow shovel!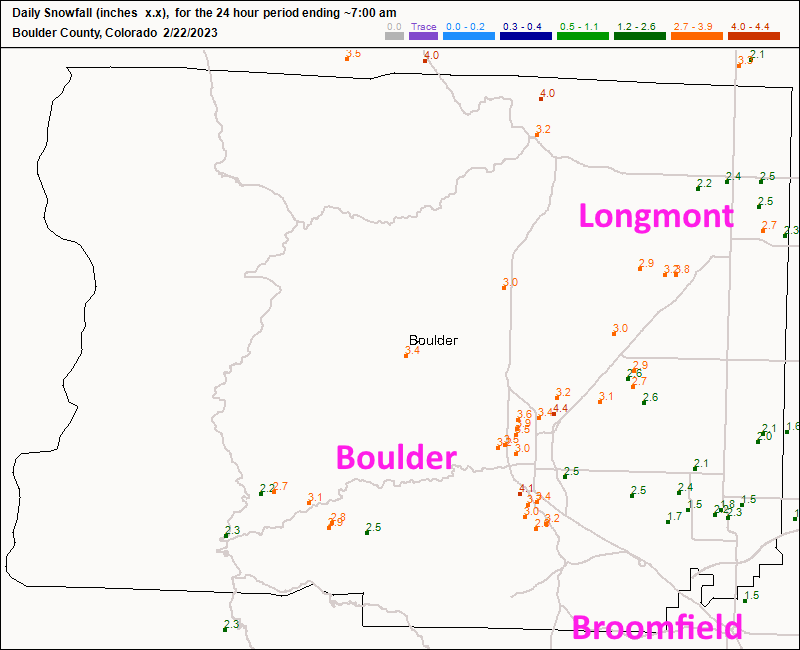 End Wednesday update.
​
Monday Update:
Our next storm is still on track. I've seen it sitting out there in the future, model run after model run. To quote the NWS forecasters in this mornings internal discussion "With shocking consistency across ensemble [models] on timing and precipitation amounts from this system, forecast confidence is increasing this forecast package for moderate snowfall for a few northern parts across our [forecast area]."
The cold front arrives around 4pm Tuesday with precipitation beginning around 10pm and continuing for 18-24 hours. All the models are are painting healthy snowfall totals along I-25 north of Denver. The expected track of the low pressure center is such that Broomfield to Fort Collins gets a bullseye of snow totals. I'll keep updating as needed, the current snowfall forecast are as follows. But first, the NWS has already issued a watch...
Issued: 2:08 PM Feb. 20, 2023 – National Weather Service
...WINTER STORM WATCH IN EFFECT FROM LATE TUESDAY NIGHT THROUGH WEDNESDAY EVENING...
* WHAT...Heavy snow possible. Total snow accumulations between 4 and 8 inches possible.
* WHERE...Boulder and the western suburbs of Denver.
* WHEN...From late Tuesday night through Wednesday evening.
* IMPACTS...Plan on slippery road conditions. The hazardous conditions could impact the Wednesday morning and evening commutes.
PRECAUTIONARY/PREPAREDNESS ACTIONS...
Monitor the latest forecasts for updates on this situation.
Snowfall Roundup:
The GFS (Figure 1 update): 6-9"
Weatherundeground.com 5-7"
The Canadian model 5-8"
The NAM (that is usually low) 5-7"
The NWS 5-8" (from watch above)
Channel 31 news 3-6"

More to come!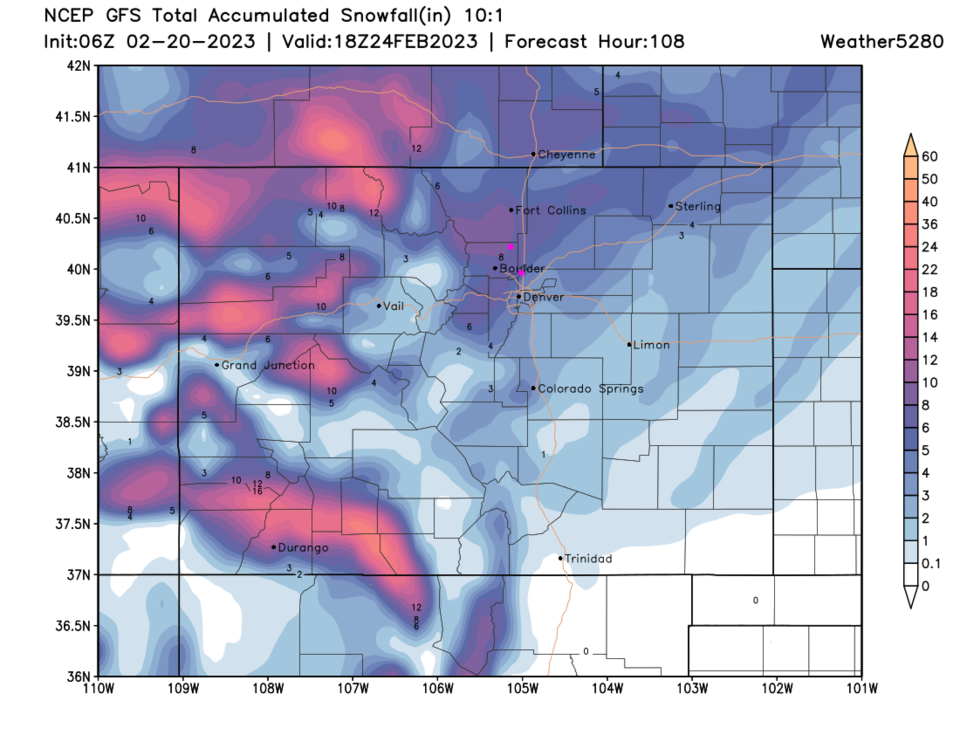 End Monday update.
​
The Forecast Discussion:
Ridging in the upper atmosphere rules the West this weekend and temperatures remain very warm through Tuesday (Figure 1). We get to watch the old snow melt away. We will see notable winds on Sunday with really high gusts (80+ mph) up in the mountain passes making things rough at higher elevations. Winds along I-25 may hover in the 15-25mph area for a few hours.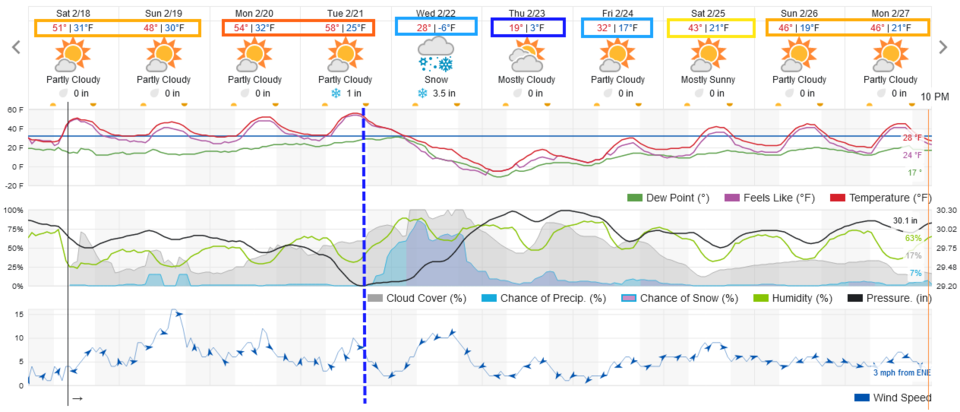 The Longer Range Forecast:
A strong trough digs into the West Tuesday (Figure 2) and ushers in a strong cold front (Figure 1 dotted line). Recent storms have looked impressive 4-5 days out only to fade away as the date arrives (or move too far south to impact northern Colorado that much). So far, this track change has not shown up, but we still have many days to go.
If it remains on track, the low travels through south central Colorado and really pulls in a lot of moisture (Figure 3). Snowfall totals in the Longmont/Broomfield region, according to the GFS (Figure 4) are looking to hit the 5-7 inch level. Weatherunderground gives us 5-6 inches currently. This storm has more snow to the north (so far) and very little south of Denver.
I'll keep an eye on it here - check back! After that storm, we return to seasonable warmth once the snow pack melts off some.