​In Brief:
Storm departs, cold remains.
Wednesday Update:
The storm kept dropping snow after 7am, but up to this time, Longmont and Broomfield had 4.5 to 5.1 inches of snow (Figure 2 update). We have a small system coming in Friday that will add a bit to the snow. There is a possibility for a bigger storm, again, arriving Sunday PM into Monday AM. Temperatures won't rise beyond 30F for most of the next 10 days. More later!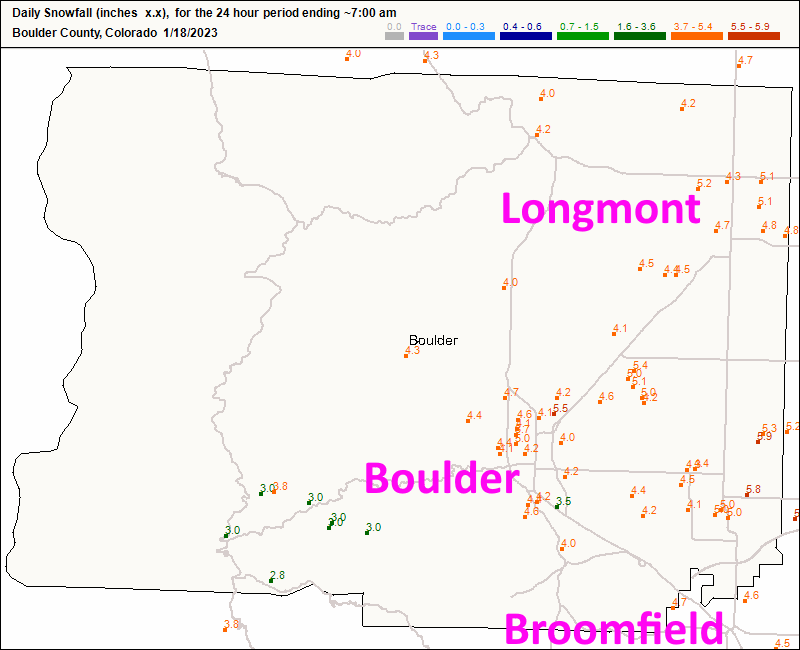 End Wednesday Update.
​
The Forecast Discussion:
The forecasters at weather5280.com have released their snowfall map! (Figure 1 update)., This looks reasonable!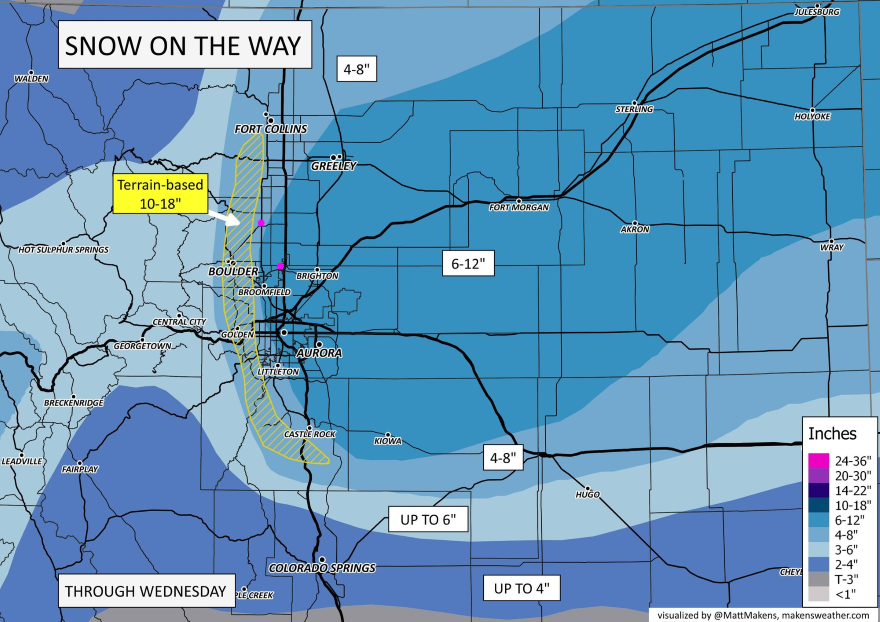 Winter Storm Warning
Issued: 12:36 PM Jan. 16, 2023 – National Weather Service
...WINTER STORM WARNING IN EFFECT FROM 5 PM TUESDAY TO 5 PM MST WEDNESDAY...
* WHAT...Heavy snow expected. Total snow accumulations between 6 and 11 inches, with the heaviest amounts favored over the plains just east and southeast of Denver. Winds gusting as high as 35 mph east of I-25 with some blowing and drifting snow.
* WHERE...Portions of east central, north central, and northeast Colorado.
* WHEN...From 5 PM Tuesday to 5 PM MST Wednesday. The heaviest snow will spread east across the plains through Tuesday night and continue into Wednesday morning. Snow decreases in intensity from west to east Wednesday afternoon.
* IMPACTS...Travel could be very difficult. The hazardous conditions could impact the Tuesday evening and Wednesday morning commutes.
PRECAUTIONARY/PREPAREDNESS ACTIONS...
If you must travel, keep an extra flashlight, food, and water in your vehicle in case of an emergency. The latest road conditions for Colorado can be obtained by calling 5 1 1 or by going to www.cotrip.org.
____________________________________
Storms keep crashing into California and end their initial snow making lives on the Western Slopes of the Rockies. Another foot of snow will pile up in spots in the Rockies Sunday into Monday.
Coming Wednesday, the pattern changes enough that lows start to trek across southern Colorado and pull Gulf moisture into the circulations (Figure 1). Canadian air will also begin to invade the U.S. bringing well below-normal temperatures for a long stretch.
By the end of the month (January 30ish), 95% of the nation will be experiencing temperatures significantly below normal. The last California storm, for a while, hits Thursday (and it is weaker than the monsters that have been hitting all month).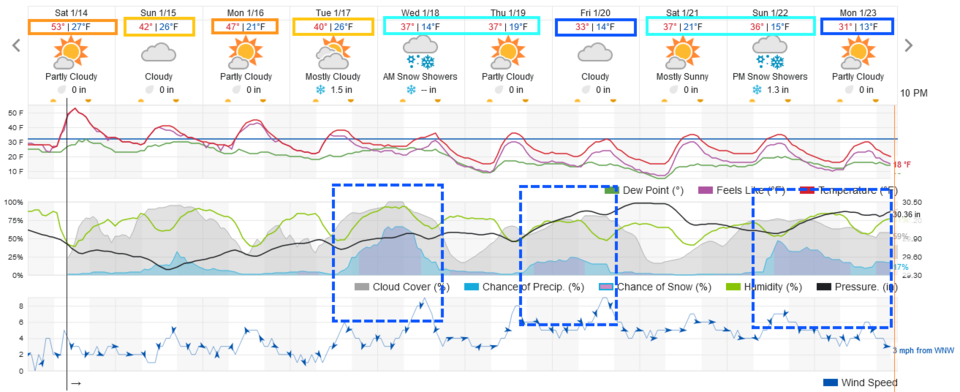 The Longer Range Forecast:
Focusing on our first storm, the upper-level low tracks across southern Colorado Tuesday and Wednesday (Figure 2). The storm looks impressive Wednesday morning (Figure 3). The GFS (using the warmer 10:1 snow-to-water ratio) puts an impressive 8-12 inches along I-25, less in the foothills and up to two feet on the Western Slopes (Figure 4). We'll see if these totals remain in the forecast as we get closer.
Over the next 10 days, that same model gives I-25 a total of 16-20 inches!!! (Figure 5). The Canadian model, for that same time period, gives us 10-14 inches (Figure 6). I may not see my yard-based Christmas decorations until April.